The Perfect Spring Shirt:
Rarely do you find multiple spring fashion trends in one piece of clothing. That's why we are so excited about this new Ariat shirt that was released this spring. Usually, an article of clothing will be an amazing color, or will feature a special texture, or nails a trending design/print. And, usually, if a brand tries to do all of that in one article of clothing, it ends up looking kind of haphazard. So, when our shipment of women's Ariat shirts came in and we saw this beauty, we had to share it with you! This is a shirt that does it all… beautifully.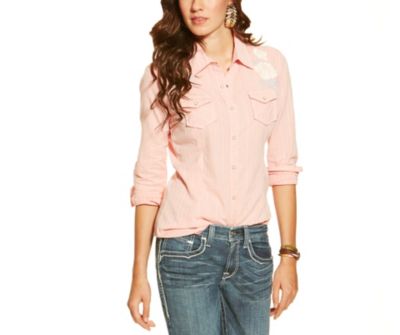 2016 Spring Color – Rose Quartz
This year's fashion color report (yes, there is actually a report produced detailing what colors are most often used in fashion globally) tells us that the soft pink of Rose Quartz is leading the trends this spring.
From the report: "The soothing, calming nature of colors in the Spring collections are led by Rose Quartz, a persuasive yet gentle tone that conveys compassion and a sense of composure. Like a serene sunset, flushed cheek or budding flower, Rose Quartz reminds us to reflect on our surroundings during the busy but lighthearted spring and summer months." When we saw Rose Quartz on this Ariat women's shirt, we immediately fell in love with it.
Spring Florals
So, Ariat got the base color right. They also got the print right. Spring floral prints are getting prettier and prettier, and they remind us of sunny days on the horizon. There is just a touch of floral near the left chest pocket and a large floral statement on the back. They've blended pattern and color for you already!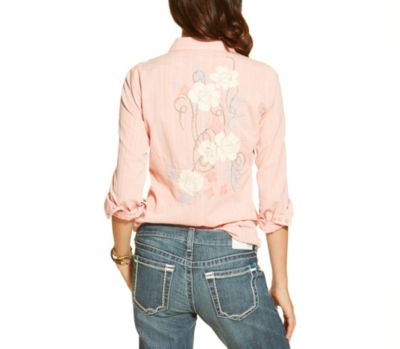 Texture Times Two
First, they chose the right floral design, but then they added it the right way. Using embroidery adds a unique dimension to this shirt; but, Ariat didn't stop there. They embroidered on textured fabric for two times the richness. The shirt is made of cotton dobby fabric. Cotton dobby is a woven fabric made from a specific loom that produces geometric patterns. In this case, there is a linear texture to the fabric, adding even more depth and interest. These are the details that you usually love about a shirt, but can't quite put your finger on.
(And, of course, we love the western details! What do you think? Did Ariat create the perfect shirt, or what?)
Check Out All Women's Ariat at Murdochs.com