Is wearing a poncho a risky move for you? Ponchos create a unique silhouette and often – not always – don bold native prints and geometric prints. This can make them a little bit intimidating to wear if you aren't sure how to style them. With a few style tips from Murdoch's clothing managers, you'll be in-the-know with this fashion trend in no time!
Check out these style tips for a poncho this winter, by Murdoch's clothing team members in various store locations. This is how we do it…
---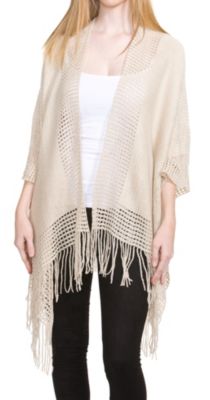 Basic to Beautiful
Let's start with a basic poncho. We love this lightweight one because it has a neutral pallet and cute cut-out details. As is, it lacks color and shape. Here's how our team in Parker, Colorado, spruced it up: a blast of color and print in the dress, a big belt to accent the waistline, a neutral tall boot to anchor it, and a medium-weight necklace to dress it all up.
Style tip to get the look: Don't rely on a neutral poncho to complete an outfit. It's great for adding texture, but you still have to add color and visual interest.
---
Aztec to Western
We want to make this strong pattern really come alive by adding some structure to the base layer. It starts with a throw-back tailored shirt and classic western belt. A chunky turquoise necklace compliments the shirt details. Whiskered skinny jeans and a pair of Ariat fringe boots pull this look into the modern realm. This unconventional outfit scores another 10 from the Parker crew.
Style tip to get the look: Contrast an unstructured poncho with a tailored top.
---
Aztec Double Check
Murdoch's team in Cheyenne went a different route with our Aztec poncho. They pulled the basic gray and black out of the poncho and made them her base palette. She chose comfy leggings and a no-frills tee, saving her style punches for accessories. Gray boots, a wide belt, black metallic bangles, and an attention-grabbing necklace add finishing touches that polish this western outfit.
Style tip to get the look: If you go basic with your shirt and pants, go big with your accessories. 
---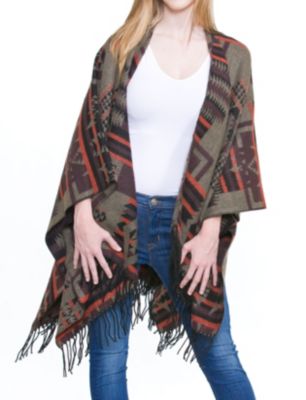 Color Pop
A white T-shirt and jeans is one way to go. A pair of darling red boots is another! The Murdoch's Cheyenne store shows us how to dress up a poncho in black denim skinny jeans (aka the western version of a little black dress) and red boots.
Style tip to get the look: Find a color within the print and play it up. 
---
A few quick links over to items that we mentioned accompany ponchos well.