Learn how to sharpen your Husqvarna chainsaw chains in this video, created by Murdoch's Ranch & Home Supply and Husqvarna. Chad Winters, North America product trainer for Husqvarna, gives you step-by-step instructions to keep your saw performing as if it were brand new. That means a sharp blade.
What you'll need: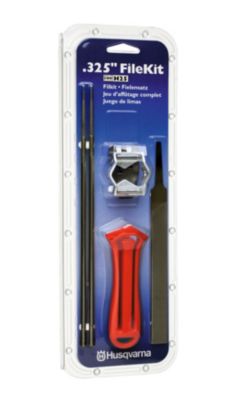 Husqvarna File Kit: You need to know what size chain is on your saw before you purchase a file kit. File kits include two round files, one flat file, an interchangeable handle, and a combo-tool for your depth gauge and file guide.
Safety Glove: Always wear appropriate PPE.
Chain: You'll need one used, dull Husqvarna chainsaw chain.
Time: Lastly, you'll need 20-45 minutes, depending on your experience level.
Why it's important:
Husqvarna chainsaws are developed with the mentality that high RPM gets the job done. In order for the saw to do the work for you, your chain has to be of quality construction and sharpened. Otherwise, you're putting added stress on the engine, making it harder to get the job done.
Shop Sharpening Supplies